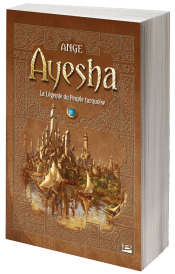 Ayesha
ANGE
Summary
---
The Cyan People are destined to be slaves. The priests read it in the stars, they have been slaves for millennia, and nothing can change it. Or so it's believed. But when Princess Marikani, the last descendant of the Sorcerer-Kings of Arrethas, rescues a mysterious stranger, Arekh, from a shipwreck everything begins to change.
Arekh grudgingly agrees to help Marikani reclaim her throne. But Marikani is a pretender. Born into a Cyan family and swapped with the true princess, it is only after she has taken the throne that Marikani realises she can bring about change… she now has the power, if she chooses, to free her people.
But nothing is ever easy. People around her are growing increasingly suspicious, and when her husband betrays her slave origins to the Inquisition Marikani is forced into hiding.
Denounced as a demon and sentenced to death her battle for freedom is doomed, until the slaves themselves rebel. Civil war breaks out, accompanied by shocking acts of genocide. But amidst the darkness is a spark of hope: Arekh can help Marikani finally lead the Cyan People to freedom.

'This spellbinding tragic story, full of suspense, twists and turns, keep readers holding their breath until the very end.'
Lectures Jeunes (#1 YA recommendation magazine)
Book 1 The Cyan People
Book 2 The Flame of Harabec
Book 3 The Death of Ayesha
Omnibus Ayesha
Key points
---
Driven by astonishing characterisation and passion, Ayesha is one of the most extra-ordinary French fantasies ever written. Intelligent, heart-rending and action-packed this is a novel of rebellion, revolution, war and freedom. Ange Guéro has brought political intrigue and an intricate and surprising plot together with superb characters and purpose, to create an absolutely exceptional oriental-flavoured Fantasy saga.
• This is a masterpiece
• An exceptionally powerful, rewarding and moving novel
• Perfect to publish as individual titles, or in an omnibus edition
• Ange Guéro is a multi-award winning author, already translated around the world
290.000 words (omnibus)
Sample chapters available in English
Full translation available in German
Rights Sold (3 countries)
---
CZECH REPUBLIC (Reverted)
GERMANY
SPAIN (Reverted)