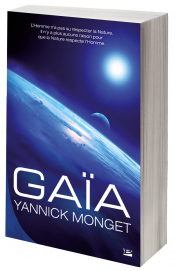 Gaïa
(Gaïa)
Yannick MONGET
Summary
---
A mysterious epidemic is spreading across the planet. Soon millions will die. Contact has been lost already with remote regions of the Earth.
In these frightening circumstances Alexander Grant, head of Genetics, a New York biotechnology company, meets Anne Cendras, a prominent French biologist. She's convinced a sudden and terrible change in the balance of the world's ecosystem is happening. The behavior of animals has modified, and vegetable species show highly aberrant mutations. These events are threatening the very survival of humanity.
No international organization has the means to confront the epidemic. Only a few individuals in Europe and the USA are determined to fight back, to understand the causes of this environmental cataclysm, and to stop it in its tracks.
"Mind-blowing and moving, this novel is absolutely splendid. It highlights current social issues and foretells what could happen if Mankind fails to take action."
Les Rats de Bibliothèque
"A breath-taking thriller, both captivating and powerful, with an astounding twist at the end!"
Diversions
Key points
---
A fast-paced, easy-to-read topical thriller about the protection of our environment.

• Highly successful self-published author : 25,000 copies sold !
• Strong interest from the film industry
• An adventure of epic proportions, full of action and vivid characters, in the manner of Michael Crichton and René Barjavel
• Universal themes that will find an international resonance and interest.
150 000 words
Sample chapters available in English
Rights Sold (1 country)
---
TAIWAN (CHINESE COMPLEX CHARACTERS)