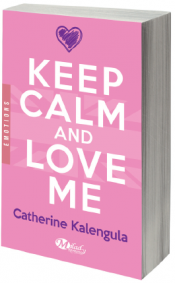 Keep Calm & Love Me
Catherine KALENGULA
Summary
---
Ever since Ben left her to become engaged to her own sister, Lina desperately wants to change her life. She decides to return to London, write her next novel and perhaps find her old flame, Jaimee…
But between her publisher urging her to write erotic romance, a genre she knows nothing about, and advances from her neighbour, Swann, a devilishly sexy Irishman who dreams of making a hit in theatre, Lina no longer knows which way to turn!
After having seen Jaimee again, now the director of a failing theatre, Lina tells herself that her neighbour, a real heartbreaker, is the best source of advice as far as eroticism is concerned. But despite his provocative manner, Swann is doing all he can to win her over.
Lina is torn between Jaimee and Swann, who are fighting not only for their careers but also her heart… Who will play the leading role in the merciless world of the West End and love?