In 19th-century Paris, a lady turns seamstress, and becomes mistress of her fate.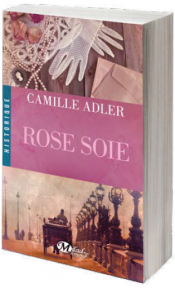 Pink Silk
(Rose soie)
Camille ADLER
Summary
---
Rose de Saulnay, a quiet young woman belonging to the upper classes, has a passion for fashion which she expresses by creating superb dresses in secret. But her husband, a violent and possessive man, finds this pastime unworthy of her social rank and disapproves of her behaviour.
At a grand ball, she meets Alexander Wright, the French capital's most renowned couturier. Her husband hires him to design an outfit for Rose, and it's love at first sight. When divorce becomes legal in France in July of that year, Rose finds the courage to take her life in her own hands. She
leaves her spouse at last and opens a dress-making shop.
Despite the difficulties of her situation and society's rejection of her, Rose gradually wins her independence and, thanks to Alexander Wright, regains her faith in the future... and in love.
'A feel-good story and a pretty romance, both sweet and elegant, that's a pleasure to read…'
Au Boudoir Écarlate
Key points
---
• A romance set in the elegance of 19th-century Paris.
• The captivating theme of women's liberation and independence, in a period when those ideas were still revolutionary.
• The history of fashion, inspired by Emile Zola's novel, Au bonheur des dames (The Ladies' Delight).
57 000 words
Sample chapters available in English
---
ALL RIGHTS AVAILABLE