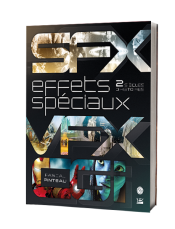 Special Effects
(Effets spéciaux)
Pascal PINTEAU
Summary
---
An expert
A privileged eyewitness of the evolution of special effects since 1985, Pascal Pinteau travels regularly to the United States, Japan, Australia, New Zealand, Great Britain, and Canada to meet the leading specialists in this field.
A complete work
This is the only work on this subject that allows one to discover the first examples of visual magic in the history of humanity: from Egyptian temples to music halls, and from the dawn of cinema to the era of digital effects, before examining the artistic and technical work behind the scenes of major TV shows, animation movies and the most spectacular attractions at theme parks.
A book for everyone
Because everyone knows Pacific Rim, Iron Man, Star Wars, Avatar, E.T. and Star Trek, this work is aimed at film buffs as well as a general audience and readers of all ages. It recounts a human and artistic adventure, through the words of the greatest designers, sculptors, model makers, makeup artists, animators, and 3D wizards who have given life to these works with their unforgettable characters and emotional highpoints.
International renown
The first version of the book published in 2003 was a huge success, hailed by the press as the key reference book on the subject, and today out-of-print. It was released in 2004 in Hungary, then in 2005 in the United States, the United Kingdom, Australia, New Zealand, and Canada under the title Special Effects: An Oral History.
The greatest names in cinema
Presenting interviews with the greatest artists in the industry of special effects, including Ray Harryhausen, Dick Smith, Stan Winston, John Dykstra, Douglas Trumbull, Volker Engel, Jim Henson, Patrick Tatopoulos, John Gaeta, Phil Tippett, John Lasseter, Richard Taylor…, this creative saga is illustrated by over 1,500 photos. With a hundred additional pages, updated content and interviews, brand-new conversations with key figures working on major recent projects, and complete with a Blu-Ray guide to essential films, this unique work is eagerly awaited by all SFX fans and will be available in October 2015.
AWARD:
Grand Prix de l'Imaginaire 2016
In the press:
"Definitely a future classic"
Science & Vie
"The author succeeds on three counts: the book is a compelling read, fascinating to look at with its superb photos, and exhaustive in its coverage of the subject matter"
Pourtours
"More than a reference work… it's a bible!"
Cine Sfx & Making Of
"Magnificent images and interviews with the greatest artists in this field"
Les Échos
Key points
---
A unique volume exploring the entire history of special effects, including the most recent techniques used in the latest movies.
An impressive number of previously unpublished anecdotes and first-hand accounts by the best experts.
A broad selection of the most pertinent and seldom-seen documents and photographs.
An enhanced and fully updated edition.
A Blu-Ray guide to essential films.
450.000 words
---
ALL RIGHTS AVAILABLE