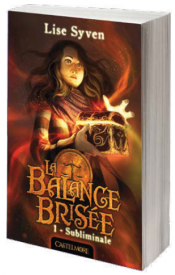 The Broken Balance
(La Balance Brisée)
Lise SYVEN
Summary
---
Elie has just lost both her parents in a car accident. Since then, her life has been falling apart. At home, her brother Karl had developed an absurd obsession for plastic ducks, while her Aunt Magalie is busy mass-producing badges. When the teenaged girl catches the two of them whispering together about a mysterious Order and magic spells, she starts to wonder whether she isn't the only sane one left in her family!
Or else… it might mean that she too has magical powers. Elie then learns all about her family's history and the secret society of mages, but her initial enthusiasm soon turns to anxiety and nagging questions about the mystery of her parents' activities and the unresolved circumstances surrounding their death.
What if it wasn't really the result of an accident?
Elie pursues her investigation to find out the truth with the help of her brother and her aunt, but also her high school friends… plus some magic spells! But girl, watch out, the enemy she faces could very well be deadly!
Well-developed characters, larger than life: an endearing heroine with real guts, a supportive brother, an aunt overwhelmed by events and parents who were more than they appeared to be…
Book 1 Subliminal
Book 2 Phenomenal
Book 3 Elemental
Key points
---
• An atmosphere and characters that feel immediately familiar
• An engaging and easy read, written in a straightforward tone
• Young readers will look forward to devouring book 2 and learn more about their heroes and magic!
70,000 words per book
---
ALL RIGHTS AVAILABLE