'A stunning English-language debut with this breathless, swashbuckling tale of intrigue, spying, and swordfights. An adventure plot leaves plenty of room for character development, drama, and excitement.'
Publishers Weekly - starred review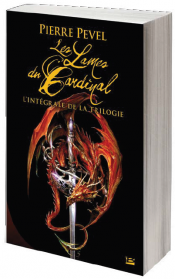 The Cardinal's Blades
(Les Lames du Cardinal)
Pierre PEVEL
Summary
---
Paris, 1633. The streets are filled with intrigue, duels, spies and adventure. The skies are filled with dragons. Dragonnets are exotic pets, wyverns are high-class riding mounts, and drac thugs are the coarsest of mercenaries.
But the power rising from Spain and its Court of Dragons is anything but mundane ; there the deadly Black Claw cult draws on dragons as they once were: ancient, terrible, utterly merciless, and wielding a dark and powerful sorcery. Their plans contain little room for the lives or freedom of men and could end with a huge dragon-shaped shadow falling over Europe.
With war on the horizon, Cardinal Richelieu turns to the only person who can counter the dragons' insidious plot: Captain La Fargue, an exceptional swordsman, devoted officer and brilliant leader. With his legendary company of swashbucklers and rogues, only he can have a chance to defeat the enemies of the Crown.
They're the Cardinal's Blades. It's the biggest challenge yet for them – and they'll need to be sharp…
'A cross between Fantasy and swashbuckler, perfectly executed.'
Le Monde
Book 1 The Cardinal's Blades
Book 2 The Alchemist in the Shadow
Book 3 The Dragon Arcana
Omnibus The Cardinal's Blades
Awards :
• Teen Choice award 2009 Imaginales – Prix des Lycéens
• David Gemmell Legend Award 2010 for best newcomer
MOVIE RIGHTS SOLD!
Key points
---
The Cardinal's Blades is part historical novel, part old-fashioned swashbuckling high-action adventure, and part classic Fantasy. Set in the superbly realised and impeccably researched world of seventeenth-century France, Pierre Pevel has woven some of the best-loved Fantasy tropes – musketeer-style adventuring, daring swordsman, political intrigue, non-stop action, and dragons – into a stunning new Fantasy series.
• Exceptionally commercial concept – this is Dumas with dragons
• The musketeers, Cardinal's Guards and Cardinal Richelieu have never been out of fashion
• Huge appeal for fans of historical as well as Fantasy novels
• 'Two words: great fun. This is the France of Fanfan la Tulipe: a land of flashing blades and break-neck chases, beautiful women and gallant warriors, of masquerades and midnight plots and sword play.' — Strange Horizons
94 000 words per book
English edition of the whole trilogy available!
Rights Sold (14 countries)
---
BULGARIA
CROATIA (Reverted)
CZECH REPUBLIC (Reverted)
ESTONIA (Reverted)
FINLAND
GERMANY
ITALY
NETHERLANDS (Reverted)
POLAND (Reverted)
RUSSIA (Reverted)
SPAIN
TURKEY (Reverted)
UNITED KINGDOM
UNITED STATES