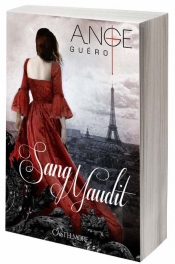 Blood Curse
(Sang Maudit)
ANGE
Summary
---
Paris in the 21st century.
Louis XXIV is the young king of France, and his fashionable, wealthy nobles amuse themselves in the court of Versailles. Designer crinoline dresses are all the rage, and rich young aristocrats pack the trendy Paris nightclubs. But behind the scenes two rival families vie for power : the Condés, rumoured to be descended from an angel ; and the Orléans, who claim a demon amongst their ancestors…
Angélique was born into this world. She's a sweet seventeen-year-old, and she has a secret power : she's an empath, able to sense the emotions of others, and she thinks her ability has gone unnoticed… until the day she has to use it, to escape an attempt on her life.
Who would want to kill her ? And why ? The answer lies deep in the files of Louis xxiv's sinister secret service – and to seek them Angélique must first become a spy and then, perhaps, a traitor…
'Ange possesses an undeniable talent as a storyteller, the art of recounting adventures in breath-taking fashion'
Le Monde
Book 1 Blood Curse
Book 2 (forthcoming in 2014)
Key points
---
• A crossover vampire romance series
• All the charm and ceremony of the French Ancien Régime... transported to the 21st century !
• Written in an easy-going, contemporary style : a real page turner!
• Paris ! Le Château de Versailles, ball dancing, fashion, parisian nightlife, the Champs Elysées !
80 000 words
Sample chapters available in English
---
ALL RIGHTS AVAILABLE