There's no smoke without fire…
Cassandra is the young daughter of a duke in a faraway kingdom. Since birth she has suffered from a mysterious affliction: whenever she has an emotion that is too intense, fire bursts forth from her skin and scorches everything she touches, including her mother or her own hair!
She's obliged to spend almost every day immersed in water to avoid...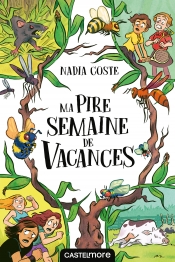 A dream holiday in the country? Not if nature suddenly goes crazy!
Lea really does not like bugs. For good reason - whenever there's a mosquito around it will always be her who gets stung. This year her holidays at her cousins' house in the country are worse than ever because the wasps and all the other insects are now as big as golf balls!
She and her cousin Max soon discover that there are lots of other...